Yesterday we had the pleasure to attend, at the Romanian Cultural Institute in Bucharest, the launch of "Aventuri în țara trolilor. Jurnal de călătorie în Norvegia" [Adventures in the country of trolls. Travel Journal Norway], a book written by Marina Almășan.
Marina is a well-known Romanian journalist and show host, who has been working for the Romanian National Television for almost 30 years. This book is the 11th one she signs.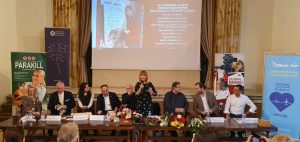 We met her in Oslo this spring, when she was doing research for this book, and discussed about life and doing business in Norway and our mission to support strengthening the economic ties between Norway and Romania.
Well done, Marina! We are sure that after reading your book many Romanians would decide to visit Norway!